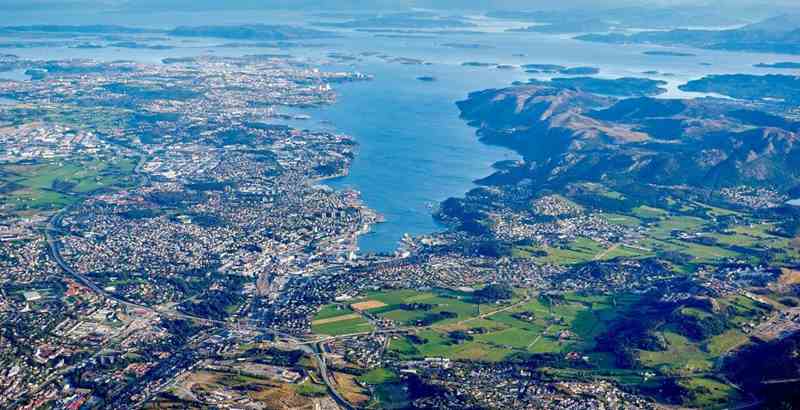 Stavanger Tourist Attractions
Once you arrive at Stavanger Airport in Norway, you are only a short drive away from many amazing places to discover and popular attractions to see. Norway is a stunning country where visitors can experience many beautiful, unique, and wonderful tours.

Below you can find recommendations for some great tours around Stavanger in Norway. We hope you will find inspiration for some fun, charming, memorable, and interesting tours that you can enjoy together with your travel companion(s).

Stavanger: Hop-On Hop-Off Bus Tour
One great way to enjoy all the sights and attractions around Stavanger city is by getting on a "Stavanger: Hop-On Hop-Off Bus Tour".
With one of these tickets, you can hop-on a double-decker sightseeing bus and embrace the amazing sights from an open-top deck. The tickets are valid for 24 hours, allowing you to hop-on and hop-off at any of the 11 tour stops along the route as often as you like.
You will get a chance to visit Stavanger in an interesting way and be amazed by the beautiful landscapes including great water, mountains, and white beaches. Stavanger city also holds an extensive historical background and is Europe's oil and energy capital.
In order to get the full experience, we recommend you begin your tour at the first stop, which is the Strandkaien Cruise Terminal. From here, the tour will continue to the Tourist Information Station, where visitors can hop-off and take a short walk over to Stavanger's Cathedral. The cathedral is created by beautiful architectural work and its interior is equally as stunning.
Make sure not to miss the Petroleum Museum, which is one of the most famous spots on the tour. It has become one of the coast's most memorable landmarks. If you would like to visit a museum that is more focused on natural and cultural history, than hop-off at the 7th stop and visit the Stavanger Museum. Another museum for art-lovers can be found at stop 9; the Stavanger Art Museum. This museum includes over 2,600 pieces of amazing artwork.
During the bus ride, where you will pass by all Stavanger's iconic locations, you can enjoy an informative on-board commentary that is available in 8 different languages. Furthermore, free Wi-Fi is available on-board.
Please find a list of the tour stops below:
Strandkaien Cruise Terminal
Tourist Information and Stavanger Cathedral
Petroleum Museum
Victoria Hotel
Petroleum Museum
Tourist Information and Stavanger Cathedral
Stavanger Museum
Museum of Archaeology
Stavanger Art Museum
Ledaal Royal Residence
Strandkaien Cruise Terminal
Stavanger: City Walking Tour
Get the chance to follow a local guide on a walking tour through Stavanger with a ticket to the "Stavanger: City Walking Tour". Here you can discover Stavanger's many hidden gems and impressive sights, which includes both the Cathedral and Valberg Tower.
You will be joining a local expert on this guided sightseeing walking tour in Stavanger. Meet your guide in the city center and set off with him/her to discover this beautiful city on foot. During the tour, you will experience fascinating stories that will submerge you into the city's incredible history.
First, you will be walking through the city's Old Town where you can be charmed by the cobblestone streets and small wooden houses. Then you can stroll through to the market square and continue to the harbor bay where the 12th-century Stavanger Cathedral forms an impressive backdrop. You will get to know some of the city's main icons and personalities and their influence throughout the years.
Next, admire the statue of the former mayor and well-known writer, Alexander Kielland. Here you will also learn about his life and work. Finally, you will be following a pedestrian street, which leads you to Valberg Tower that is situated on a small hill. From the top, you can take in the incredible views, overlooking the central part of the city and harbor.
This will be a great tour where you can explore all the charm and cozy atmosphere in the city.
Stavanger: Guided Sunrise Hike to Pulpit Rock
Experience one of Norway's most popular hikes with a ticket to the "Stavanger: Guided Sunrise Hike to Pulpit Rock". If you choose to join this sunrise hike, you will be able to beat the crowds and experience the sunrise over the mountains from the top of the rock.
The tour begins as you are picked up at your location specified when booking. Your estimated pickup time is 5:00 am from your accommodation. Once everyone has been picked up, you will be heading to the Stavanger Ferry Station or Lauvvik Ferry Station, from where you will take the ferry across the fjord.
Once you get to the other side there is a short drive to Preikestolen Lodge, which is your starting point for the hike. The hike up the mountain will take you between 2-3 hours, with a distance of 4 kilometers each way.
Once you get to Pulpit Rock, you will spend some time admiring the sunrise and the beautiful nature. There will be plenty of time to take photos. Here you can also enjoy your packed lunch, beverages, and some snacks.
The hike back to the ferry will likely also take 2 to 3 hours. You can expect to arrive in Stavanger at around 8:00 pm 10:00 pm.
Stavanger: 2-Hour Fjord Cruise and Guided Preikestolen Hike
With a ticket to "Stavanger: 2-Hour Fjord Cruise and Guided Preikestolen Hike," you will be able to enjoy the natural beauty of Lysefjord on a 2-hour cruise. Get a chance to see the impressive Preikestolen, or Pulpit Rock, from the waterside. Followed by a guided afternoon hike up to the famous rock where you will gain incredible views over the surrounding area.
Your great adventure begins in Stavanger city with a 2-hour cruise into the Lysefjord. From the boat, you can enjoy the surrounding fjords, islands, and mountains. You will also discover the majestic Preikestolen and visit Vagabond's Cove. Furthermore, you will get up close to the Hengjane Waterfall where you can taste its crystal-clear water.
When you are back on solid ground, you will get a short information and safety briefing, before your hike begins. As you make your way to the mountain plateau, you will pass through marshland and forest. The trail is often covered with snow and ice. Along the way, you will have time to stop to enjoy the views, catch your breath, have a warm drink, and snap photos of the magnificent nature.
After about 3 hours of trekking, you and the group will have reached the top of Preikestolen. Here you will get a well-deserved break before your guide will lead you back down.
Later, you can watch the sunset. When darkness starts to fall, your guide will provide headlamps to the group. You will then arrive at the trailhead after a 2-hour hike, before being driven back to Stavanger. This is a unique tour that you do not want to miss!
UNBEATABLE VALUE CAR RENTAL

FREE
Amendments,
FREE
Cancellations,
NO
card fees!
airport_shuttle Need Airport Transfers?
Useful Information about Stavanger Airport