Stavanger Airport Arrivals (SVG)
Not all flights may be showing. If not available use search above to find your flight by airline, airport or flight number.
Origin
Airline
Flight no.
Scheduled
Est./Actual
Status
No flight arrivals were found at Stavanger Airport.
Flight Arrivals at Stavanger Airport
Stavanger Airport is Norway's oldest airport. It was opened by King Haakon VII on May 29, 1937. It is the third busiest airport in Norway after Oslo Gardermoen and Bergen Airport. In 2018, the airport handled 4,250,000 passengers. Stavanger is one of the largest cities in Norway and is located in the Southwest part of the country. Because of the importance of the oil industry in the region, it is known as the Oil Capital of Norway.
Stavanger Airport Ground Transportation
Stavanger Airport, Sola is located approximately 6.9 miles/11 km southwest of Stavanger, in the municipality of Sola, Norway.
Passengers traveling to and from Stavanger Airport can find simple and comfortable transfer opportunities, including:
Stavanger Airport is located close to the City Center of Stavanger and a car ride only takes around 15-20 minutes, depending on traffic. All travelers should follow the signs to Stavanger and follow the E39. Then you can get on the Rv509 highway to the airport and the terminals.
The address of the SVG Airport can be found below:
Stavanger Airport, Sola
Flyplassvegen 230
4055 Sola
Norway.
If you have any questions or concerns you can contact Stavanger Airport by telephone on +47 67 03 10 00.
Drop-off and pick-up of passengers at Stavanger Airport
All visitors at Stavanger Airport can find easily accessible drop-off and pick-up areas.
If you are going to pick up or to drop off a passenger at SVG you can use the Kiss & Fly zone at P1. This is a short-term parking lot for departures, reserved for picking up and dropping off passengers. The walking distance to the terminal is only about 3 minutes, making this a convenient spot for any pick-ups or drop-offs. All guests can park in this area free for the first 20 minutes.
For more information on how to access the pick-up and drop-off, areas please visit this website.

If you have any questions or concerns, you can contact the airport staff at SVG Airport on telephone number: +47 22 05 75 00 or by using the contact form here: https://apcoasupport.no/english_contact/
Stavanger Airport - Special Need Services
Stavanger Airport offers assistance to travelers with disabilities or reduced mobility (PRM). At SVG Airport there will be assigned staff to help provide assistance to passengers with disabilities around the clock, every day of the year. However, all travelers need to book assistance online at the same time as they make the travel arrangements with the airline or travel agency. This should be done at least 48 hours before departure.
The staff at Stavanger Airport can assist you with everything from getting to and from the aircraft through the airport, getting to the restroom when needed, purchasing food and beverages, to purchasing of Tax-free items upon departure and arrival internationally.
Was your flight delayed or cancelled?
You may be eligible to receive up to 600 EUR compensation per person in your party..
Claim Now!
Beat the Queues
Don't stand sweating for 45 mins waiting for Security. Get a fast track and get through in 5 mins or less.
Book now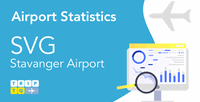 Stavanger Airport Passenger Volumes in Q3 2023 with an 11.86% Increase YoY, Surpassing Pre-Pandemic Levels